An office can become a stale place to be during winter's cold, dry months.
Why is that?
Closed windows; forced-air heating; dry air; wet overcoats and boots airing out; excessive microwave use – even when your heating system has great fans, the air inside a building can become dry, stale and stuffy. There are a few good ways to fix this, although some of them involve open windows and people complaining "it's cold!"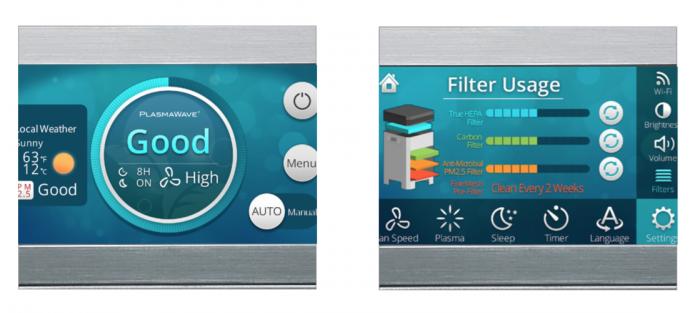 Here at JBM Office Systems Ltd., our staff have tried fans, a humidifier and large plants to try to lift the "stuffy" out of our office air. Recently though, our partner, MBM Corporation out of Charleston, South Carolina, launched a new line of Ideal™ Professional air purifiers. Naturally, we had to see how these air purifiers work. We chose one of the Ideal™ models suitable for our office square footage, and when it was operating, we all began to feel a subtle difference to our air, with fewer staff members experiencing that mid-afternoon slump in energy. But we all wanted to know how it works, so we could pass this good news on to you. According to the MBM Corporation, the new models of Ideal™ air purifiers use ionic technology to improve indoor air quality.
The product line consists of five models, with performance sizes for spaces ranging from 150 square feet to 1,000 square feet. All five models are equipped with the highly effective AEON Blue® cleaning system, which scrubs the room air more effectively than almost any other air purifier – using high-efficiency, multi-level filters. This innovative and effective technology offers a six-stage cleaning system; a filter combination and built-in plasma cleaning technology, and has been tested to clear the air of 99.97 per cent of pollutants. Fine dust; pollen and other allergens; viruses; bacteria; mould spores; pet dander; cigarette smoke and even chemical fumes and odours are filtered out from the air efficiently and cleanly. Stuffy office air has met its match! Ideal™ air purifiers are perfect for allergy sufferers; for places where the air seems stuffy; for environments with "manufacturing smells" in them; for home, for retail, for medical or other office environments.
And if you are concerned about ozone production…the Ideal™ air purifiers don't produce ozone. While filtering, it enriches the air with negative ions, which in large quantities have been proven to increase the oxygen content of our blood. Just like at our JBM office, your staff will experience a variety of positive and tangible effects. Less of a three o'clock slump; more energy; fewer sick days; easy breathing and increased alertness.
So, go ahead: Breathe in, breathe out, breathe easy, with an Ideal™ air purifier taking care of your indoor air quality. Want to know more about the Ideal™ air purifier line? Visit our JBM website here: http://www.jbm.ca/products/category/air-purifiers
If you are ready to offer your own office team the best environment possible, we can help you find a solution with the Ideal™ air purifier that best suits your needs. To meet with a JBM Office Systems Ltd. consultant, call our office at 905-641-4442, or get in touch via the contact us!
JBM is a locally owned and operated family business, located in St. Catharines since 1987. We service the entire Niagara Region, Haldimand County and Hamilton-Wentworth Regions providing leading-edge document management solutions, document imaging and mailing solutions.