Mailing is a key part of any business. But in today's fast-paced world, it can be hard to keep up with the time-consuming manual processes often involved in sending out letters and packages. That's where Quadient comes in. With a variety of innovative mailing solutions designed to help you accelerate your mailing process, you can get to what matters most – growing your business.
Today we'll explore the Quadient business mailing solutions we offer here at JBM Office Systems and how each can help take your organization to the next level.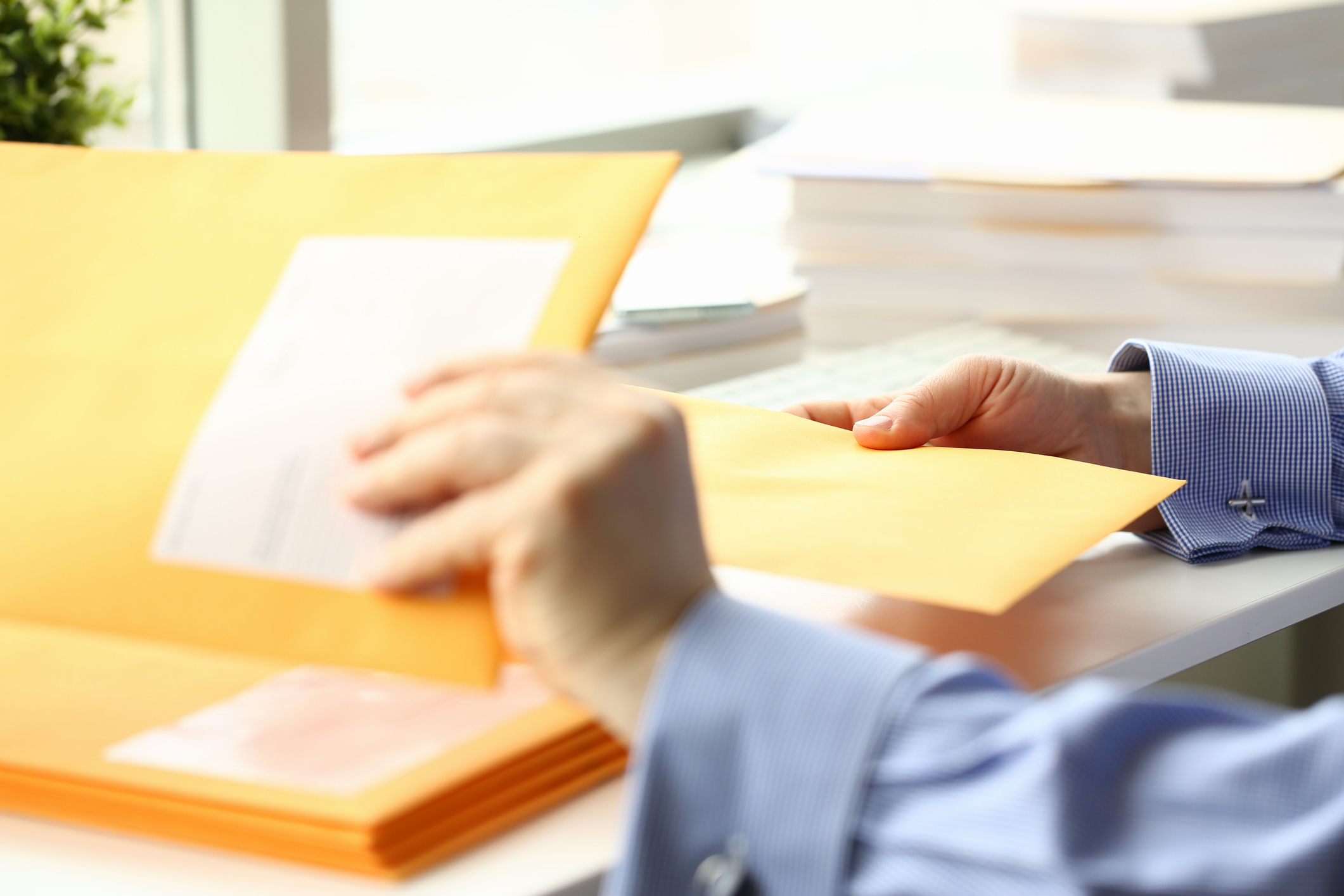 MAILING SOLUTIONS: FOLDER INSERTERS
Completing mailing tasks manually can slow down daily operations and take your employees away from other important tasks. Folder inserters present the perfect solution. When paired with process automation, folder inserters allow businesses of all sizes to connect with customers while ensuring document integrity.
Here are some additional ways folder inserters can benefit your business:
Mail documents faster. Fold, sort, stuff, and seal envelopes faster so your employees have more time to spend on more pressing projects.
Fold any type of mail. Handle all common types of envelopes with a wide range of papers and document folds.
Stuff and seal thousands of envelopes an hour. With multiple paper feeders and envelope stackers that automatically adjust, this letter sealer, inserter, and sorter can have you working on other tasks while mailing is completed.
Save time. A small business can save up to 8 hours a week by processing mail with a folder inserter.
Save money. Save hundreds of dollars in productivity and labour costs each month.
SMALL TO MEDIUM BUSINESS (SMB) SOLUTIONS: DS-64I
Fold and insert up to 20,000 envelopes per month with Quadient's DS-64i Folder Inserter. Designed to maximize ease of use, efficiency, and accuracy, the DS-64i meets the demands of nearly every business mailing application – from direct mail campaigns to confidential medical mail billing and financial statements.
To ensure the perfect fit for each document, the versatile mail production solution automatically adjusts the folding, pack size and envelope whenever a job is selected. When assembling variable documents, the DS-64i utilizes its state-of-the-art feeding technology and automated insert management system (AIMS) to guarantee the right documents are inserted into the correct envelope every single time. No matter how complex the job is, you can always count on the DS-64i to maximize productivity every step of the way.
*AIMS is a software application that can be added on and used with folder inserters.
MEDIUM WORKGROUP SOLUTIONS: DS-77 IQ
Take folding and inserting mail to the next level with Quadient's DS-77 iQ. Featuring impressive reading and sorting capabilities, and a newly designed compact footprint, the DS-77 iQ fits perfectly into any work environment. Thanks to its best-in-class CIS scanning technology, the folder inserter is able to read a variety of coding types including optical marks, optical characters, and 1D and 2D data matrix barcodes while safeguarding your company's communication-sensitive information.
LARGE WORKGROUP SOLUTIONS: DS-95I
As the owner of a business, you're always looking for more productive and efficient ways to run your company, and this includes streamlining the creation of your business's critical communications. Quadient's DS-95i delivers with its fast, adaptable, and accurate mail assembly.
Its exclusive Flexfeed© multi-format feeding processes all document sizes from a single feeding tray ­– from inserts and return envelopes to reply forms. Customizable to your organization's specific requirements, this scalable solution contains up to seven feeding stations to correctly assemble your most challenging combinations of documents.
Thanks to its unparalleled scanning technology, the DS-95i can read a variety of document codes that are used to automate variable page mail assembly. This ensures the right documents are sent to the right person, therefore eliminating the risk of human error.
MAILING SOLUTIONS: IMPRESS AUTOMATE SOFTWARE
Quadient's Impress Automate software is a powerful tool that can greatly enhance the functionality and efficiency of folder inserters, which are used for mail preparation and document finishing. By automating many of the manual tasks associated with mail preparation, Impress Automate can help your business save time and money, while improving accuracy and reducing errors.
One of the key benefits of Impress Automate is its ability to streamline the entire mail preparation process, from sorting and folding to inserting and sealing. With its advanced optical character recognition (OCR) capabilities, the software can read and process data from multiple sources, including scanned documents, barcodes, and electronic files. This allows for fast and accurate document processing, even with high volumes of mail.
Another advantage of Impress Automate is its ability to customize and optimize the mail preparation process for specific applications. By using customizable templates and workflows, you can tailor the software to meet the specific needs of your business, whether they are preparing invoices, statements, marketing materials, or other types of mail. This can help to ensure that the right documents are delivered to the right recipients while minimizing errors and reducing waste.
In addition to these benefits, Impress Automate also offers a range of reporting and tracking features, which can help your business monitor and optimize its mail preparation processes over time. By analyzing data on mail volumes, processing times, and other key metrics, your company can identify areas for improvement and make changes to increase efficiency and reduce costs.
Overall, Quadient's Impress Automate software is a valuable tool for any business that relies on folder inserters for mail preparation. With its advanced automation features, customizable workflows, and reporting capabilities, Impress Automate can help your business save time, reduce costs, and improve accuracy while enhancing the overall quality of their mail preparation processes.
MAILING SOLUTIONS: MAILING MACHINES
Save time, money, and trips to the post office with a mailing machine. The large tabletop machine prints postage onto envelopes and/or labels, includes a scale for you to weigh your mail, and calculates the exact price of postage, preventing you from over-paying.
Here are some additional ways mailing machines can help your business:
Save on shipping costs. Mailing machines allow businesses to save up to 24% on shipping costs.
Print postage from the comfort of your office. Print postage and tracking from your office and greatly reduce the number of trips to the post office.
Keep track of mailing costs. With a postage printer, overall mailing costs are deducted from one pre-funded account balance. These charges are tracked, and real-time reports display which departments are spending the most on postage so you can keep easily keep track!
SMALL TO MEDIUM WORK GROUP OFFICE SOLUTIONS: IX-5 SERIES MAILING SYSTEMS
Send out letters, oversized mail, or parcels, quickly and efficiently with Quadient's iX-5H and iX-5A Mailing Systems. Ideal for mid-level mail volumes, the iX-5 series mailing systems demonstrate auto-feed technology and a modern design with a colour screen and an easy-to-use control panel.
The ideal postage meter for small businesses experiencing low mail volumes, the ix-5 series mailing systems offer flexibility and efficiency, while maintaining job integrity every step of the way. Powered by S.M.A.R.T.®, a cloud-based application, they provide the ultimate shipping, mailing, accounting, reporting, and tracking experience all accessible from a single dashboard.
Some of its key features include:
Print discounted postage and seal envelopes at up to 75 letters/minute on the iX-5H and 110 letters/minute on the iX-5A
Large descriptive buttons and prompts make navigation a breeze
The Rate Wizard simplifies the process of selecting the correct postal rate and class
Ensures the delivery of every parcel and retains tracking history for up to 13 months
Obtain consolidated views of your mail center's activities to manage mailing and shipping operations
MEDIUM TO LARGE WORKGROUP MAILING SOLUTIONS: IX-7 MAILING SYSTEM
Take postage payment for your letters and parcels to a new level of productivity with Quadient's iX-7 postage meter system. Even your most demanding mailing needs are no match for this innovative system. Designed to excel in mail rooms, iX-7 optimizes efficiency and ensures fast, accurate postage calculation and payment.
Powered by S.M.A.R.T.®, a cloud-based application, which provides the ultimate shipping, mailing, accounting, reporting, and tracking experience all accessible from a single dashboard.
With the iX-7, you're provided access to postage funds 24/7 and exclusive Canada Post discounts, ensuring your business never runs out of postage, while saving you money on every package sent.
When you choose the iX-7 for your medium or large workgroup you can expect to:
Save up to 40% on Canada Post delivery services
Send packages and pay for postage instantly before you ship
Automate postage calculation from your PC to ensure you pay the correct amount every time
Track and control your deliveries, manage postage transactions, generate reports and print receipts online, anytime
ACCELERATE YOUR MAILING PROCESS WITH JBM OFFICE SYSTEMS
With Quadient's mailing solutions, your business can reduce tedious manual tasks, process mail and shipments anytime, anywhere, and secure the mail assembly process – all while driving business results that matter. As Niagara's premier provider of office solutions for over 36 years, JBM Office Systems can help you find the best mailing solution for your organization. Whether you're in need of small, medium, or large-scale business mailing solutions, our experts are here to help. Contact us today or stop by our St. Catharines showroom to learn more about transforming your business with Quadient's latest mailing solutions.