YWCA of Niagara
JBM also proudly supports the YWCA of Niagara in a number of areas. Cindy Crossley was a member of the Board of Directors with the YWCA for 5 years and helped to steer the organization during that time. In 2007, JBM hosted a 20th Anniversary event at our office with a silent auction in partnership with the YWCA where all funds went directly to the YWCA.
JBM was a major sponsor of their 'Women of Distinction' awards in 2009 & 2010.
JBM is also a proud sponsor of various campagins including the YWCA's Annual "No Fixed Address" and "Coldest Night of the Year".
Movember
For the last 5+ years, John Crossley has participated in the annual 'Movember' fund raising initiative for mens' health, specifically to fight prostate and testicular cancer and men's mental health. The cause hit home with John as both his grandfather and stepfather lost the battle to prostate cancer. Each year John rallies the troops at work, at home and at play and has helped to raise well over $5000 so far to this worthy cause.
Local Community Sports
JBM has also sponsored minor hockey over the years along with women's rowing, men's soccer, St. Catharines Curling Club and Dragon boat racing. JBM is a long-time sponsor of the St. Catharines Falcon's Jr. B Hockey Team and most recently has become an ardent supporter of the Niagara Icedogs OHL team. Since the opening of the Meridian Center, JBM has shared a box suite and been a major advertising sponsor for the Icedogs. We are thrilled to be able to host friends and family, employees and customers in our box suite to the most entertaining brand of amateur hockey in Canada. It is truly a great night out on the town in St. Catharines and has helped to reshape and revitalize the downtown core along with the First Ontario Center. We are proud to be a local contributing business.
Other Causes
Over the years, JBM has contributed to a number of other very worthy causes locally including the Terry Fox Run for several years, the Alzheimer's' Society of Niagara, Kiwanis Duckrace events, Rotary Auctions, Tradebank Auctions and United Way golf tournaments to name a few. Click here for information about our latest United Way Golf Tournament Sponshorship. We also have donated money and prizes to support many of our customer golf tournaments over the years.
WIN THIS SPACE CONTEST
JBM was a proud Silver Sponsor of the St. Catharines Downtown Association's "Win This Space" Contest. We have donated a colour MFP that will be given to the winner of this contest. The St. Catharines Downtons Assocation wants to place and entrepreneur in a downtown storefront with upto $24,000 toward their first year of rent PLUS over $14,000 in other business support prizes. This unque, innovative economic development contest is designed to inspire and assist contestants realize their dream of owning their own business!
For more information, check out this video!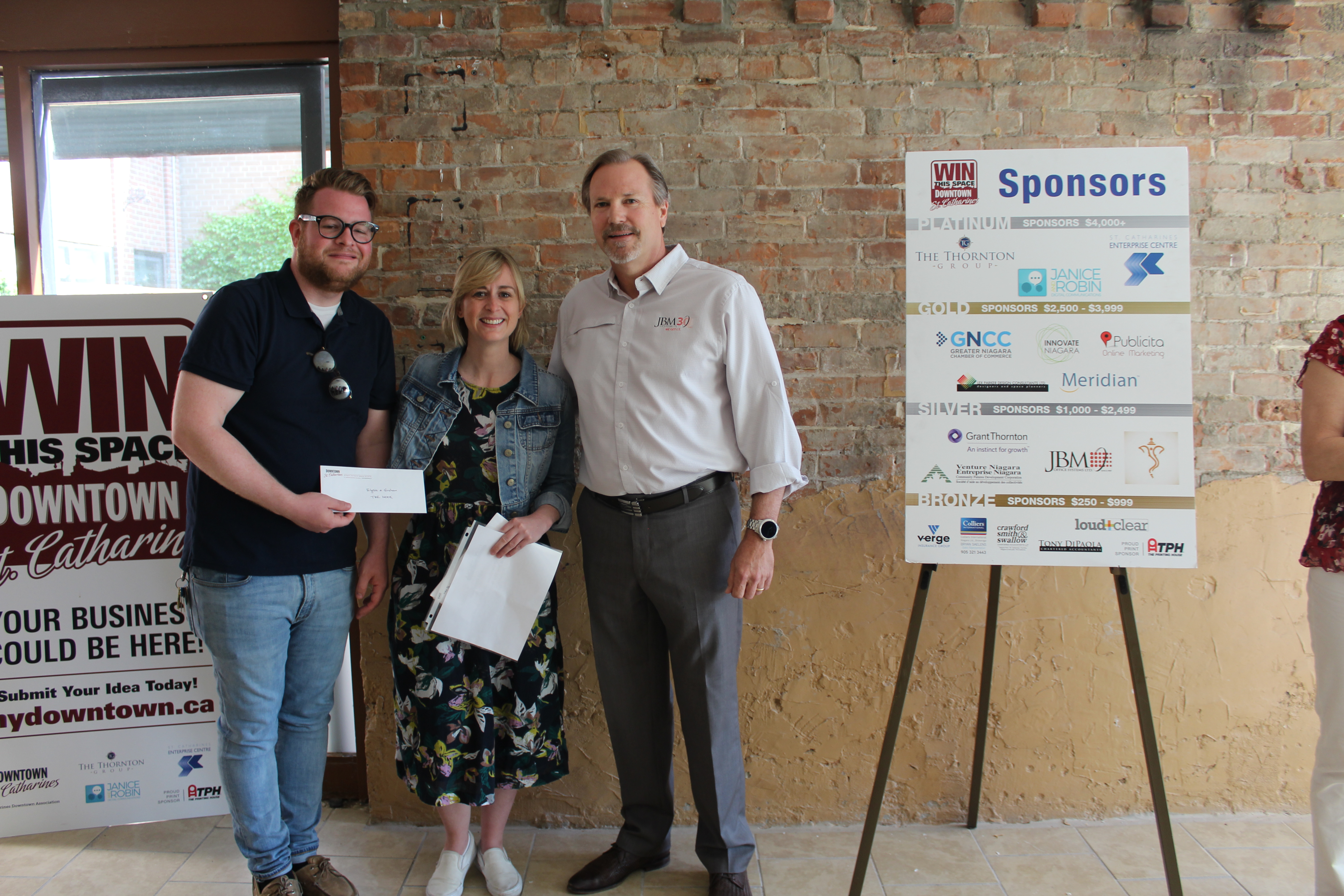 Memberships
JBM is a proud member and supporter of the Greater Niagara Chamber of Commerce and its predecessor organizations for over 20 years. We have supported the Fall Classic Golf Tournament for many years and their Community Banner along with attending many events and functions over the years. We are also a member of the Hamilton Chamber of Commerce.
JBM is also a member of the Canadian Federation of Independent Business (CFIB) for over 20 years and supports small businesses in Canada through that avenue.