Smart interactive flat panel displays are transforming the way we learn and collaborate–and for good reason. Whether used in a classroom of a primary school or the boardroom of a business, these smart boards are quickly becoming a fixture in numerous settings around the world.
Today's blog will provide a brief overview of interactive flat panel displays, including what they are and what sets them apart from other technologies to several key benefits provided by this transformative display solution.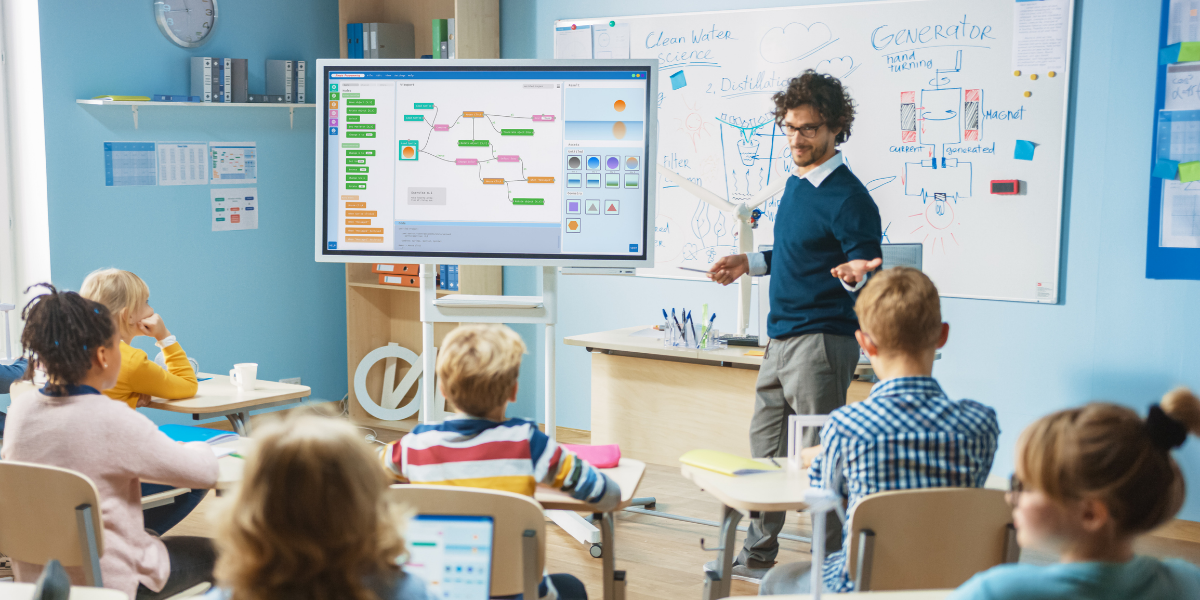 What is an Interactive Flat Panel Display?
The Interactive Flat Panel (IFP) is the latest in digital display technology. It combines the interactivity of a whiteboard with the digital capabilities of a computer screen to create a unique and valuable experience for educators and businesses alike.
Compared to once-relied-on bulky projectors that required constant maintenance and set-up time, IFPs demonstrate a high-quality display, enhanced connectivity, and built-in software solutions.
Designed for interactive whiteboarding, videoconferencing, screen sharing, and much more, users can seamlessly connect to these large-format displays from their own devices or choose to use the multi-touch capabilities on the display itself.
How do Interactive Displays differ from Interactive Whiteboards?
The interactive whiteboard was one of the first technologies to truly transform conference rooms and classrooms, enabling both students and staff members to engage with displays larger than a computer screen.
The traditional electronic whiteboard used projectors to display the image on a special screen equipped with cameras and sensors, which permitted teachers, students, and employees to control the computer using their fingers or an electromagnetic pen.
Although the rise of traditional digital whiteboards was initially promising, their time has come and gone. While they were certainly a benefit to businesses and educators, the effort required to keep them calibrated and well-maintained proved too much for most organizations.
The good news is interactive displays are here to stay. They represent the best alternative as they provide all of the benefits of digital whiteboards without their drawbacks. You can say goodbye to recalibration efforts and expensive parts, and hello to blended learning, collaboration, and interactivity.
Clear Touch Interactive Panels and Their Industry Applications
As the interactive panel industry continues to grow, so does the number of products available. To help you navigate through all of the options, JBM Office Systems thought we'd showcase one of our go-to solutions: Clear Touch Interactive Panels.
This interactive technology features multi-touch capabilities, ultra HD resolution on par with most advanced displays on the market, high-quality, low-maintenance components and an energy-efficient design that can last for years.
Clear Touch Interactive Panels are typically used in one of two settings: education and business.
Education
Clear Touch Interactive Panels provide the education sector with three primary benefits:
Free Software with Lifetime Updates: Clear Touch Interactive Panels come with integrated software that requires no annual fees and ensures you receive lifetime updates. You can enjoy new features and enhanced user interface updates, all without any extra cost.
Transformative Learning Experiences: Traditional whiteboards and projectors often lead to passive viewing and limited participation in the classroom. However, with Clear Touch Interactive Panels, educators can engage students and improve learning outcomes.
Supports Multiple Learning Styles: Designed to cater to various learning styles, from visual and auditory to reading/writing and kinesthetic, our panels, make it easier than ever to create and deliver interactive lessons suitable for all students.
Choose from four different Interactive Flat Panels, and enjoy the following features included in all panels:
Snowflake Collaborative Software Suite: With Snowflake's lesson planning tools, personalized learning, and polling features, teachers can transform the classroom into a fun and motivating active learning environment.
Collage screencasting software. Wirelessly share up to 9 devices to the panel to show videos, presentations, or other multimedia content.
Chorus digital whiteboard software. Enhance student learning with more engaging, interactive, and personalized lessons.
Command panel management software. Administrators can efficiently manage Clear Touch panels from anywhere, completing tasks such as software and firmware updates or emergency broadcasts to your entire campus on the go.
Annotation Capability. Annotate on the panel's screen to clarify and emphasize important content, or have students engage with the lesson and provide their own observations.
On-screen utilities. Control activity duration and save content for later with tools like spotlight, stopwatch, timer, and screenshot.
Screen controls. Teachers have the option to freeze the screen and lock the touch function, as well as the power button. This allows them to maintain control of the classroom and create a more focused learning environment.
Cloud drive storage. Easily save and upload your annotations to the Cloud, making content sharing among students seamless for review or future lesson plans.
Clear Touch has been winning awards left and right for their transformative products. At the ISTELive23 conference, Clear Touch took home four Tech & Learning Best of Show awards. They also won the 2023 Best of Show Award in Tech & Learning Award at InfoComm and the Early Childhood Education Solution of the Year at the EdTech Breakthrough Awards.
Experience the future of education with Clear Touch Interactive Panels. Enjoy the power of advanced software without the burden of additional fees and with lifelong updates, empowering educators and inspiring students every step of the way.
Business
Business meetings don't have to be boring. Get everyone involved with Clear Touch Interactive Display Panels! Designed to enhance productivity and collaboration, the cutting-edge interactive panels support multiple users and tasks, making it simple to share information, work together on projects and give presentations.
There are three different Interactive Flat Panel Series to choose from, although, each one includes:
Annotation Capability. Presenters can mark on the screen to clarify and stress their points.
On-screen utilities. Spotlight, stopwatch, timer, and screenshot can be used to control activity duration, save content for later, etc.
Screen controls. Presenters can freeze the screen and lock the touch function as well as the power button to maintain control of the meeting and provide a more focused environment.
Cloud drive storage. Easily save and upload your annotations to the Cloud. The content can be shared easily among co-workers or used to create future presentations.
Collage screencasting software. Cast up to 9 devices at a time, without a single adapter.
Chorus digital whiteboard software. Allows businesses to collaborate, present, and train more effectively.
Command panel management software. Administrators can manage their Clear Touch panels remotely. This includes software and firmware updates, emergency broadcasts, announcements, and media casting.
3 Key Benefits of Clear Touch's Interactive Panel Displays
Engagement and Active Learning
Holding the attention of your audience is no easy feat. Especially in today's hybrid environment, where employees and students are constantly exposed to endless distractions. But with Clear Touch Interactive Panels, you can ensure that your audience remains engaged and focused throughout the entire presentation.
The interactive panels allow presenters to integrate videos, games, and polls– keeping it exciting while allowing the audience to engage along with them. Not only does this help hold the audience's attention but it also helps the information stick!
Whether you're making a presentation, giving a speech, or teaching a class, you can use Clear Touch's Interactive Panels to create an engaging learning experience for all ages.
Say goodbye to worries over lost work
Collaborating is an essential part of any project. But doing so can be trying when you constantly fear losing your hard work. That's why Clear Touch Interactive Panels automatically save all user actions to the cloud.
Anytime you make an annotation you can rest assured that your data is always safe. And even if something happens to your device, you can access those same files from any other device with the same software installed!
Clear Touch Interactive Panels are designed to help you collaborate and stay organized on any project, whether in the classroom or the office.
Streamline communications
Not everyone can attend meetings, lectures, and lessons. But that doesn't mean they should be left out of the loop. With Clear Touch Panels, presenters can quickly share any changes or new information on the cloud once the presentation or lesson has ended to ensure all participants are on the same page moving forward.
The innovative display technology also allows presenters to screenshot and send clips of any work performed on the panels and send them to mobile devices for seamless sharing.
Ready to transform your office?
At JBM Office Systems, we believe that you deserve the best office solutions. Whether you're looking for a new interactive panel to enhance productivity and collaboration or a colour copier and printer, we've got what you need.
Contact us today for more information on how we can help you find the perfect solution for your business.