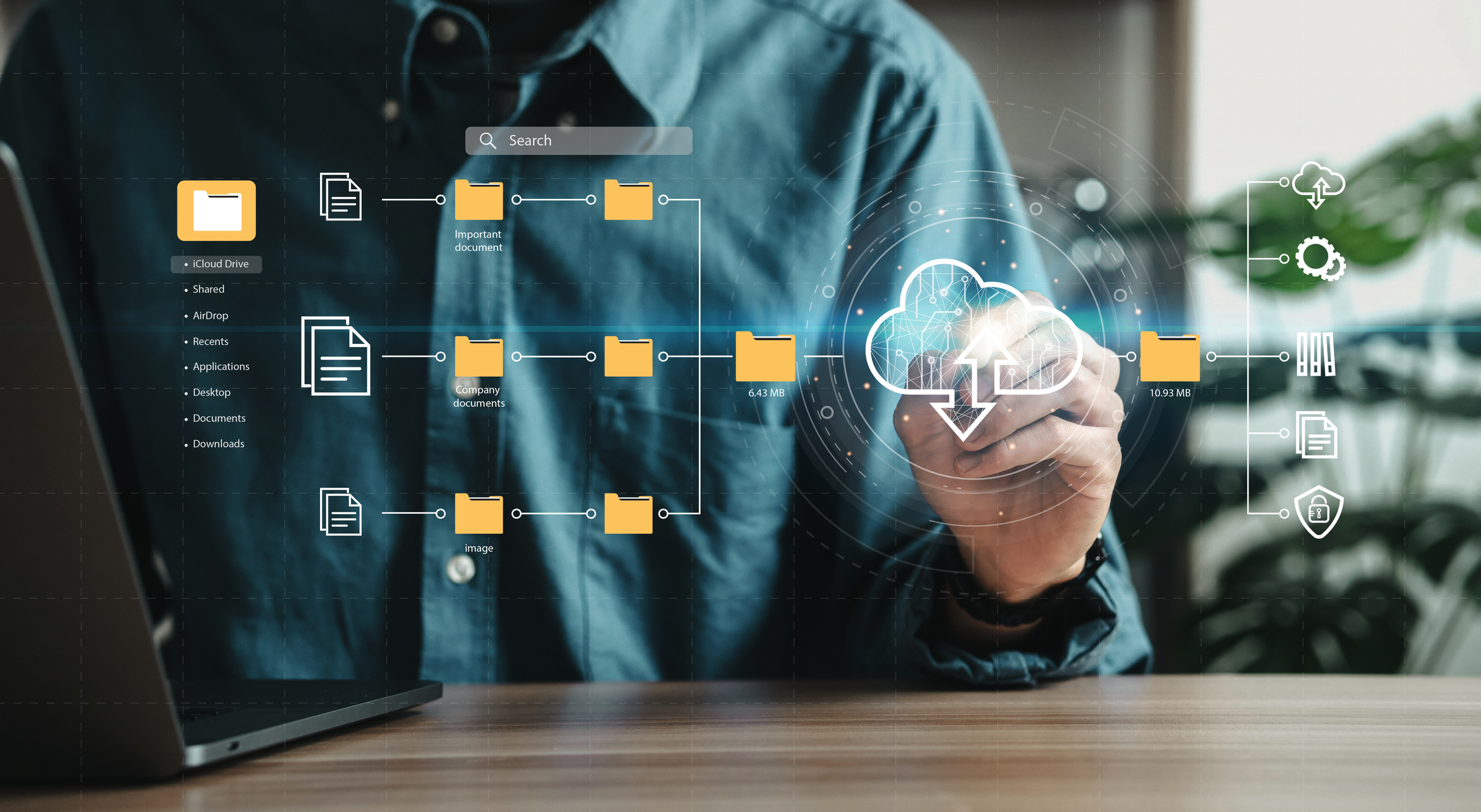 Your business needs to be able to find the information it needs on the spot. But how can you be sure all your documents are easy to find and ready for use? If you're like most companies, your documents are scattered across multiple drives, folders, computers and even different locations and countries—and when you need something fast, it can feel like looking for a needle in a haystack. Utilizing a document management system can help keep everything organized and easily accessible, saving your business valuable time and money.
In today's blog, we'll discuss how document management software works and how it can efficiently manage and securely store your organization's information.
WHAT ARE DOCUMENT MANAGEMENT SYSTEMS?
Document management systems, or DMSs, are software applications used to help manage your business's documents in a way that's easy for you and your employees to use. The powerful office management tool can be used in any business, from large corporations to small businesses, and can specifically be used to store, archive, and easily retrieve documents while at the same time, automating processes behind the scenes, making workflows more efficient which is referred to as 'Business Process Automation'.
HOW CAN DOCUMENT MANAGEMENT SYSTEMS BENEFIT YOUR BUSINESS?
Although document management systems have been around for some time, they are still not being used nearly enough, according to a study conducted by the Internation Data Corporation (IDC). The study found that companies continue to store large amounts of data they don't use (68 percent) and fail to secure any of it properly, with two-thirds of surveyed companies rating their data security as inadequate. This may stem from a lack of understanding or appreciation of the benefits that such a system can bring to your organization. With this in mind, let's take a look at some of the reasons your company should consider adopting a DMS.
INCREASES BUSINESS EFFICIENCY
Your business is running, but could it run better? As the old adage goes, "There's always room for improvement." And the same can be said about your business – it can always be more efficient. Document management systems allow you to leverage technology to automate processes and increase efficiency. This means that your staff can spend less time on administrative tasks and more time doing what they love – providing top-notch customer service. Document management software can also save you valuable time and money. A study conducted by Nucleus Research found that small to medium businesses investing in content management saw returns of $8.55 per dollar spent. The investment in a document management system thus pays for itself within a very short time. With a document management system in place, your team will also be able to access important documents remotely from their phones or computers. They'll no longer have to worry about forgetting files at home or emailing them back and forth because everything will be stored in one place – and it's accessible from anywhere!
FACILITATES COLLABORATION
Hybrid work models have become an integral part of our professional lives, and document management systems are helping to facilitate collaboration at warp speed! Document management systems provide flexible access to relevant documents, making collaboration easier than ever. This means that you can work on different projects with your team at the same time, regardless of location. With the click of a button, you can see what's changed since your last review and make annotations directly in the file itself. You can also share documents with others in real-time by sending them a link – no need for bulky attachments or slow downloads.
REDUCES YOUR ENVIRONMENTAL IMPACT
One of the main perks of adopting a document management system is you'll be able to store all your important files in one place and access them from anywhere, on any device, allowing you to do away with all those paper copies that are piling up in drawers, cabinets, and other filing systems around your office. This helps improve worker productivity, lower record management costs, distribute and access company documents with ease and save space. A paperless office doesn't just benefit your bottom line, it's also good for the environment. The average office worker uses about four dozen sheets of paper per day, half of which is considered waste. Help protect our natural resources for future generations and eliminate your office's inefficient paper processes with document management systems.
BOOST YOUR ORGANIZATION'S EFFICIENCY WITH SQUARE 9 GLOBALSEARCH DOCUMENT MANAGEMENT
Document Management Software is a powerful tool, but with so many options available it can be hard to know which one is the right fit for your business. With Square 9's GlobalSearch Document Management, you can trust that your organization is in good hands. The award-winning software utilizes TransformAI, an artificial intelligence engine and cognitive technologies to collect and process structured and unstructured data, enabling organizations like yours to manage business more efficiently by taking document processes digital. GlobalSearch simplifies the capture, retrieval and distribution of your organization's most important information while enabling you to reimagine the way you do business with cognitive automation tools that seamlessly integrate with your existing technology, enhancing workflows and employee experiences – now that's a smart office.
BENEFITS OF CHOOSING SQUARE 9 GLOBALSEARCH DOCUMENT MANAGEMENT SOFTWARE
Improves your bottom line by automating previously manual processes, minimizing storage requirements and postal expenses.
Enhances employee morale by automating repetitive routine tasks. This allows your employees to use their time to focus on more challenging and stimulating projects.
Safeguards sensitive data. With encrypted transit and storage, permission-based access, SOC 1, SOC 2, and HIPAA compliance, your documents will be safe and compliant.
Ensures business continuity by providing access to important information immediately following a disaster with recovery options for both cloud and on-premises solutions.
Reduces costs related to onsite and offsite document storage and business processes.
Expedites approvals and automates document workflows with email notifications and full feature editing.
Simplifies audit compliance with detailed user logs and searching via key index fields customized during the implementation process.
TAKE YOUR BUSINESS TO NEW LEVELS OF EFFICIENCY TODAY!
With GlobalSearch, your organization can reach new levels of productivity. From small business applications to enterprise solutions, GlobalSearch goes to work for you, with powerful functionality that empowers your company and your employees to become more efficient. And JBM Office Systems is here to make it happen. In fact, GlobalSearch is just one of the many solutions we offer to help you take your business to the next level. Since 1987, JBM Office Systems has been providing leading-edge document management solutions, document imaging and mailing solutions to the Niagara Region, Haldimand County, and Hamilton-Wentworth Regions.
If you're ready to start making an impact on your bottom line and build a stronger reputation as a leader in your industry, then contact us or stop by our St. Catharines showroom to learn more about transforming your business with the latest cutting-edge solutions.